Wyszukiwanie produktów po pełnych frazach w PrestaShop
Poszukuję modułu do wyszukiwania w Prestashop 1.6. Mam problem z konfiguracją wyszukiwarki. Potrzebuję to do części samochodowych. Domyślna wyszukiwarka po użyciu słowa "zacisk hamulcowy crafter" wyświetla praktycznie wszystkie produkty zawierające "zacisk hamulcowy" nie bierze pod uwagę "crafter". Czy Pana wyszukiwarka da radę to obsłużyć lub może da się skonfigurować jakoś domyślną wyszukiwarkę? Szukaj używając części słowa mam na NIE oraz Wyszukaj dopasowując zakończenia słowa Próbowałem na TAK/NIE Za każdym razem przebudowywałem indeks. Próbowałem też walczyć z wagami. Zrobiłem Waga nazwy produktu 6 Waga indeksu 10 Waga krótkiego opisu 1 Waga opisu 1 Reszta na 0. Chciałbym kupić jakiś moduł ale nie jestem pewien czy będzie to grało tak jak powinno. Pozdrawiam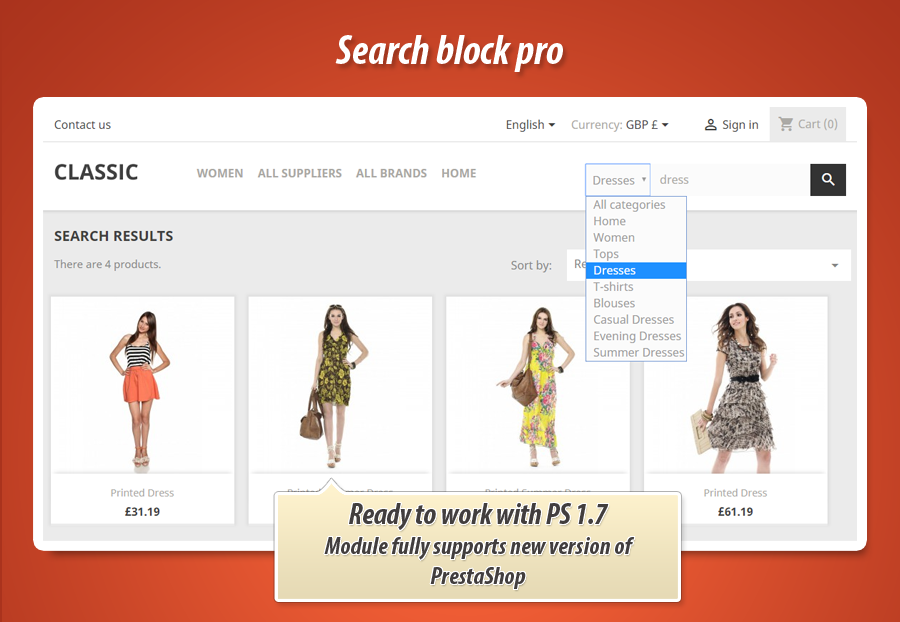 Wyszukiwanie produktów po pełnych frazach w PrestaShop
Witam,
Niestety domyślna wyszukiwarka w prestashop nie zadziała w opisany przez Pana sposób.
Działa ona w taki sposób. że wystarczy, że zostanie odnalezione conajmniej jedno słowo - to produkt pojawi się w wynikach wyszukiwania.
Jedyną raną jest albo jakiś moduł, albo modyfikacja core wyszukiwarki (czyli w zasadzie to co robią moduły).
obydwa z modułów wyszukiwania z mojej oferty, tj:
block search pro: https://mypresta.eu/modules/front-office-features/block-search-pro.html
wyszukuje pełne frazy, jeżeli wpisze Pan "zacisk hamulcowy crafter" to pokażą się tylko te produkty, które zawierają każde słowo z wpisanej frazy.